SEIJI NISHIMURA
Japanese karate master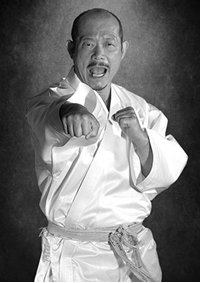 Seiji Nishimura 
(西村誠司, born June 9, 1956), Kumamoto Prefecture, Japan) is a Japanese karateka.
He has a 7th Dan black belt in Wadō-ryū karate and is the national trainer of the Japan Karatedo Federation (JKF). Seiji Nishimura practices the Gōjū-ryū as well as the Kushin-ryu-style in addition to Wadōkai. Nishimura teaches in his own Dojo as well as at the Fukuoka University. He also teaches seminars throughout Japan and abroad.
Picture: http://ryomkarate.dk
First of all, I understood that you have to have a big heart and a strong mind: I believe that these are the most important qualities that we can learn to develop in ourselves through the constant practice of karate.
Achievements
1980 35th Japan National Karate Festival Tournament Gold Medal
1981 4th World Games 70 kg Gold Medal
1981 9th Japan Karate-do Championship Gold Medal
1982 6th Karate World Championships 70 kg Gold Medal
1982 18th Wado-kai Japan Karate-do Championship Silver Medal
1983 1st Karate Open de Paris 70 kg Gold Medal
1983 19th Wado-kai Japan Karate-do Championship Gold Medal
1983 38th Japan National Karate Festival Tournament Open division Gold Medal
1983 5th Asian Karate Games 70 kg & Open division Gold Medals
1983 11th Japan Karate-do Championship Silver Medal
1984 1st Karate World Championships 70 kg Gold Medal
1984 20th Wado-kai Japan Karate-do Championship Gold Medal
1985 2nd Karate Open de Paris 70 kg Gold Medal
1985 21st Wado-kai Japan Karate-do Championship Gold Medal
1985 6th Asian Karate Games Open division Gold Medal
1986 22nd Wado-kai Japan Karate-do Championship Gold Medal
1987 23rd Wado-ka Japan Karate-do Championship Gold Medal
1987 7th Asian Karate Games 70 kg Gold Medal
1987 15th Japan Karate-do Championship Gold Medal
Source: Wikipedia